Have you ever been confused by Love? If so, lets consider some fundamental things in Love and how they impact your perception of the world:
-Like any First person game, a player can only see about a tenth of her surrounding at any one time. The quick mouse movements helps but it still remains a problem over say top-down games.
-In a large scale world, things frequently happens far away from the player. In love things can literally happen on the other side of the globe.
-Its a free roaming multiplayer game, so you cant simply trigger an event when all player are there to see it since the players are likely to be far away from each other. You can guarantee that some players will miss things.
-Players can log in and out at any time, so players need to be able to quickly understand the current situation, without having been there to experience the events that caused the situation.
-In a shared world without personal progression, players will be dropped in to the state the world is in, not one that may be appropriate for their level of experience.
If you come to the conclusion that the kind of game you are making, is incredibly difficult to make for these reasons, you have two options. Either painstakingly find solutions to these problems, or make a different game. I have decided to do both. I want to solve these issues, so I'm trying to work them out in Love, but at the same time I know that there are lots of things I cant do because I have these limitations, so in order to be able to go beyond that, I'm making another game that doesn't have these limitations, but more about that some other time.
The easy way to communicate with the player is to simply tell the player what they need to know. If players aren't there to see the bomb get planted, you just play a "the bomb has been planted" sound file to tell everyone its been planted. I think this is a bit of a cop out since it violates the "Show don't tell" rule, and its going outside the game world. Also if something happens that the player needs to know about, shouldn't the reason that the player needs to finds out that it happened, be that it actually influences the player? The expansion "Dark matter spreads over fair land" and my continiued work is all about creating large scale visual events that the playes can experience in the game.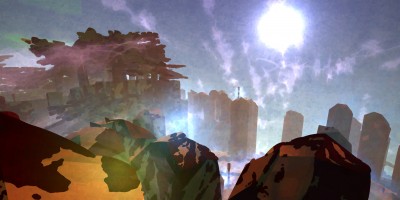 Dark matter actually spreading over the land as it gets dominated
Let me give you an example. If you have played Love you may have experienced artillery strikes, and you may think of them as just another weapons. To me they are much more then that, they are "quests". What they do is that they provide the player with the motivation of a problem (Hell raining down on them) but also what they need to solve it. The artillery leaves clear trails in the sky to lead the players to the position of the artillery peace so that they can go deal with it. Most games would have a old man with a exclamation mark over his head, or a female voice in your ear, that precedes to give you some scripted spiel about how you need to go kill some goblins, Nazis or whatever to save the village, despite the fact that they have been killed by hundreds of thousands of players before you or that no matter how long you wait to kill them, the village will never be attacked. the artillery on the other hand does all that, but without using words, by being a real event.
Power beams are also used the same way. If item A is giving you a problem, and it is clearly getting the power it needs to operate from object B, no one needs to tell the player its good idea to go and disrupt B. Its an Implicit mission.
Just like artillery uses the sky to draw a directions for the player, many other items in Love uses the sky as a canvas to give players information, like the beams coming out of powerwells and occupation monoliths or the cloud of domination.
For all the major pivot points in the story, I have made sure that their effect is something near global. These are the events that all players should be aware of. In a large scale world you want events to have a global impact, because you don't want players to be able to ignore things just because the happen some place far away.
Blue:
Will trigger a rain storm a that will eventually flood the entire world, causing all power sources under watter to stop functioning.
Yellow:
The Planet will stop turning and half the planet will be in perpetual darkness, and the other half will be in eternal sunshine. The bright side will be ravaged by wild fires, while watter will freeze, trees will die and power wells will stop producing power on the dark side.
Green:
All cable relays will stop operating. (Yeah, I know it doesn't sound as epic, but its a big deal for any player trying to automate matter gathering)
Red:
The occupying tribe will get access to the massive artillery peace in the red settlement and will begin shelling players in its hemisphere.
Purple:
The occupying tribe will be given access to balloons so that they can attack the player from the air.
All these things should be noticeable even if you missed the event that caused them. I'm planning to strengthen the clarity of each of these and even give them some effects that can be to the players advantage.
Bring clarity to a game like Love is a huge amount of work because its something that has to be added everywhere. Bullets has to travel slow enough for you to dodge them, character designs changes depending on a tribes state, Laser sights tells players where direct hit weapons are aiming, the map gives players the ability to foresee events, and so on. You cant add anything without thinking about how to make it clear to the player and that very often means you have to scale down your ambitions, and simplify things.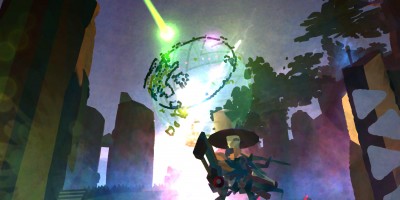 The map showing to location of the artifact and the spreading domination.
One thing to notice is that none of these involve characters. While characters may be the basic building block of most stories, they simply don't work well in this setting because they are so local, mobile and fragile. Instead I have made each settlement a "character". Having many tribe members in one place makes them easier to find, and it matters less if one or two of them gets "lost" and the players don't have to manage as many relationships as each tribe works as a hive mind having a shared opinion of you.
Adding clarity, is a constant battle between making things familiar and yet innovative, complex yet easy to understand, clear yet integrated in the fiction. All the things that make Love a challenging game to understand, like the large world, the shared progress, the multiplayer aspects, and the evolving world, are also the things that makes it great. The difficulty is to keep the good things while making it more inviting for people to come and experience it.